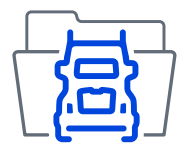 Build a robust carrier portfolio to handle complex shipping needs
Identify opportunities to strengthen your network and find the right balance between costs with service levels. Improve carrier negotiations,right-size RFPs, and reduce the risk of service failures with insight into freight market rate and capacity trends. Access a comprehensive carrier database to find reliable capacity, especially when you need it most.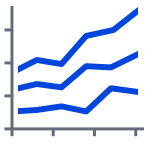 Leverage past, present, and future rate insights
Robust analysis tools allow shippers to incorporate custom segmentation or filtering criteria that match unique business needs to gain a better understanding of historical rate trends, compare current or past performance to the market, or proactively forecast rates for more accurate planning.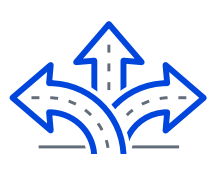 Adapt to new and ongoing challenges
Partner with DAT iQ experts for consultative support as well as data and integration services. Enable transportation teams to navigate market fluctuations, make informed decisions, dynamically plug routing guides, and solve lane or service level issues.Build resilience and flexibility into your strategy with DAT iQ.
With DAT iQ's industry-leading transportation rate and capacity analytics solutions, shippers can confidently navigate day-to-day challenges, strategic planning, and executive-level discussions.